Sleepthetic™ Adjustable Bed Base
Sale
Size Guide
Size Chart Sleepthetic Adjustable Bed Base
Features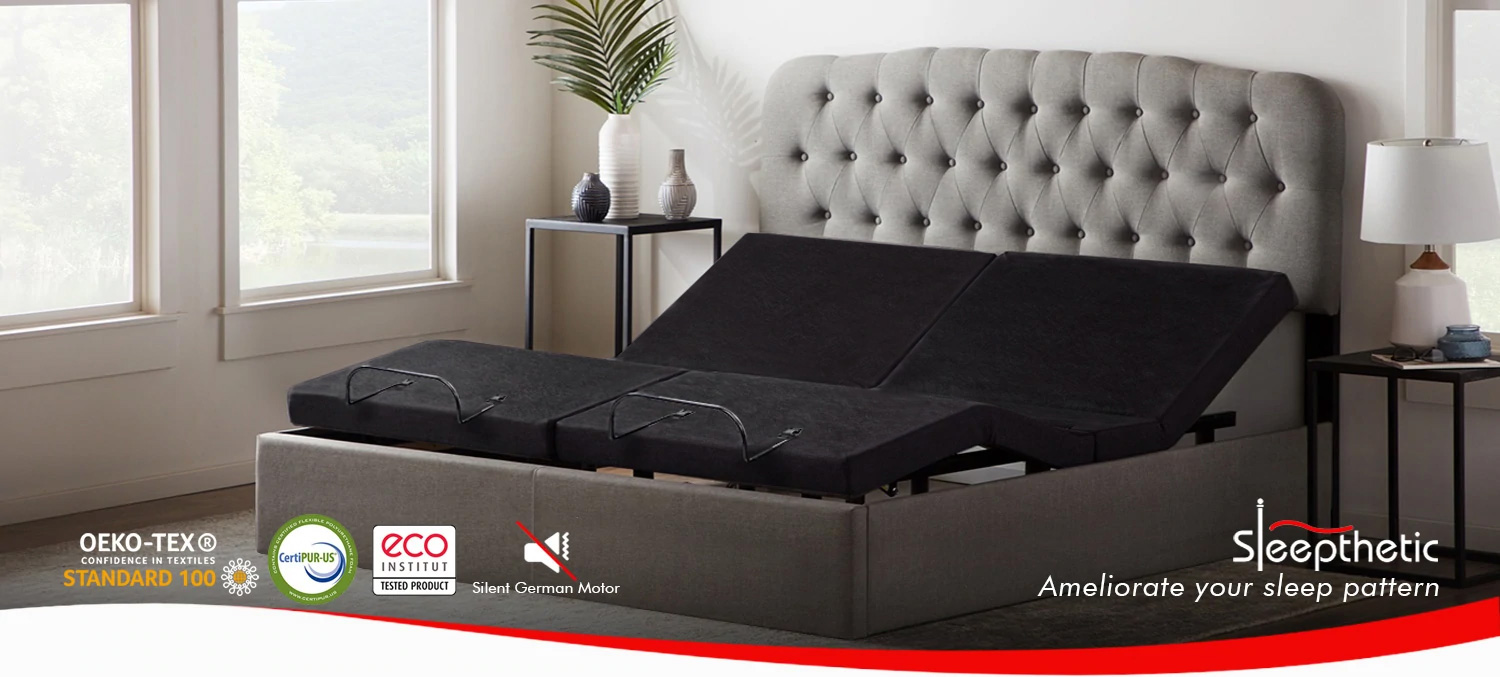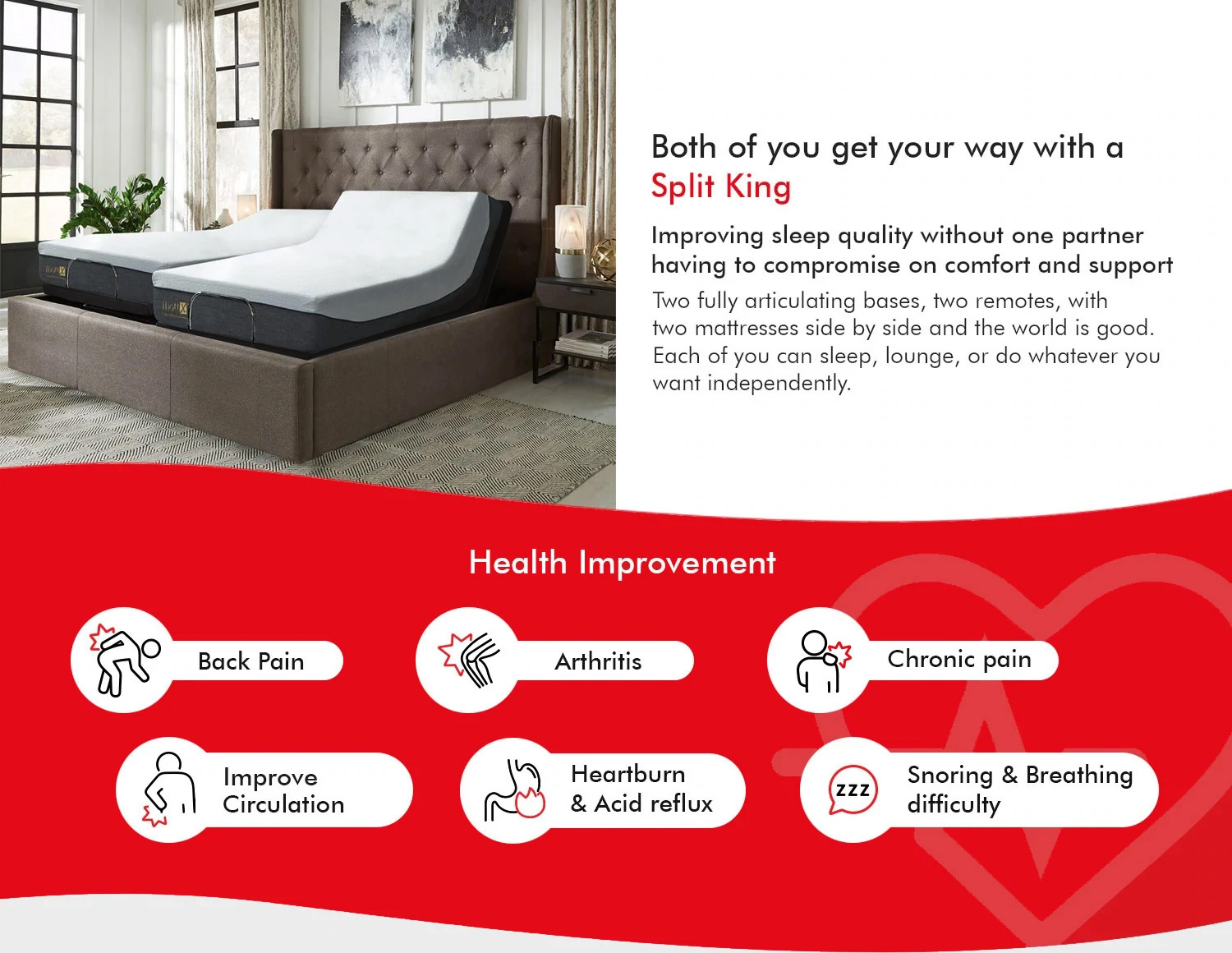 Specification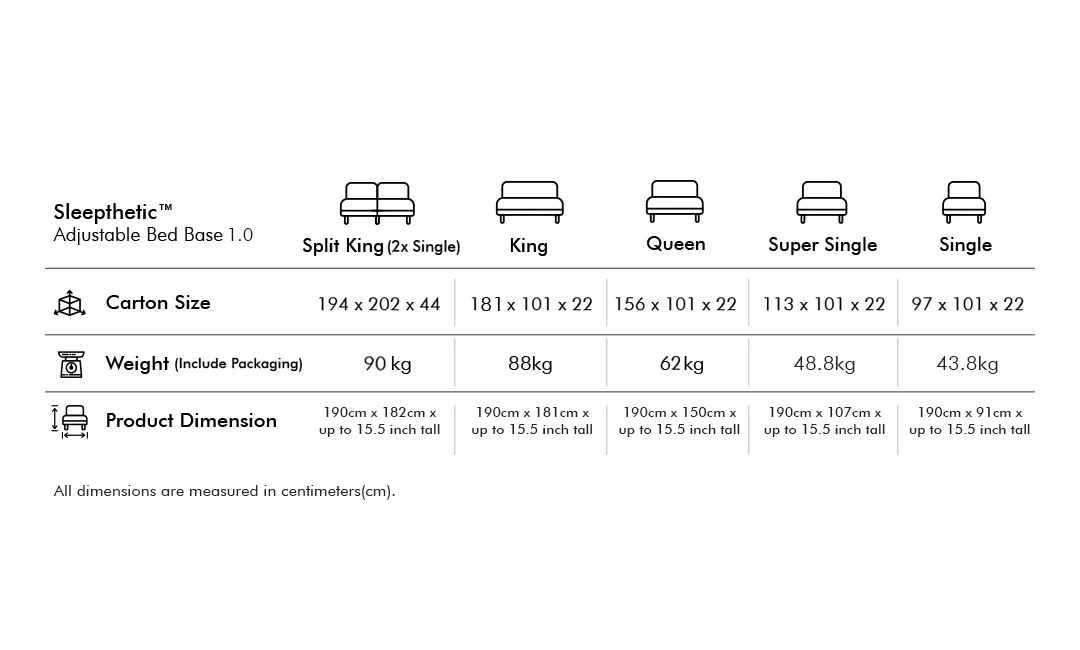 FAQs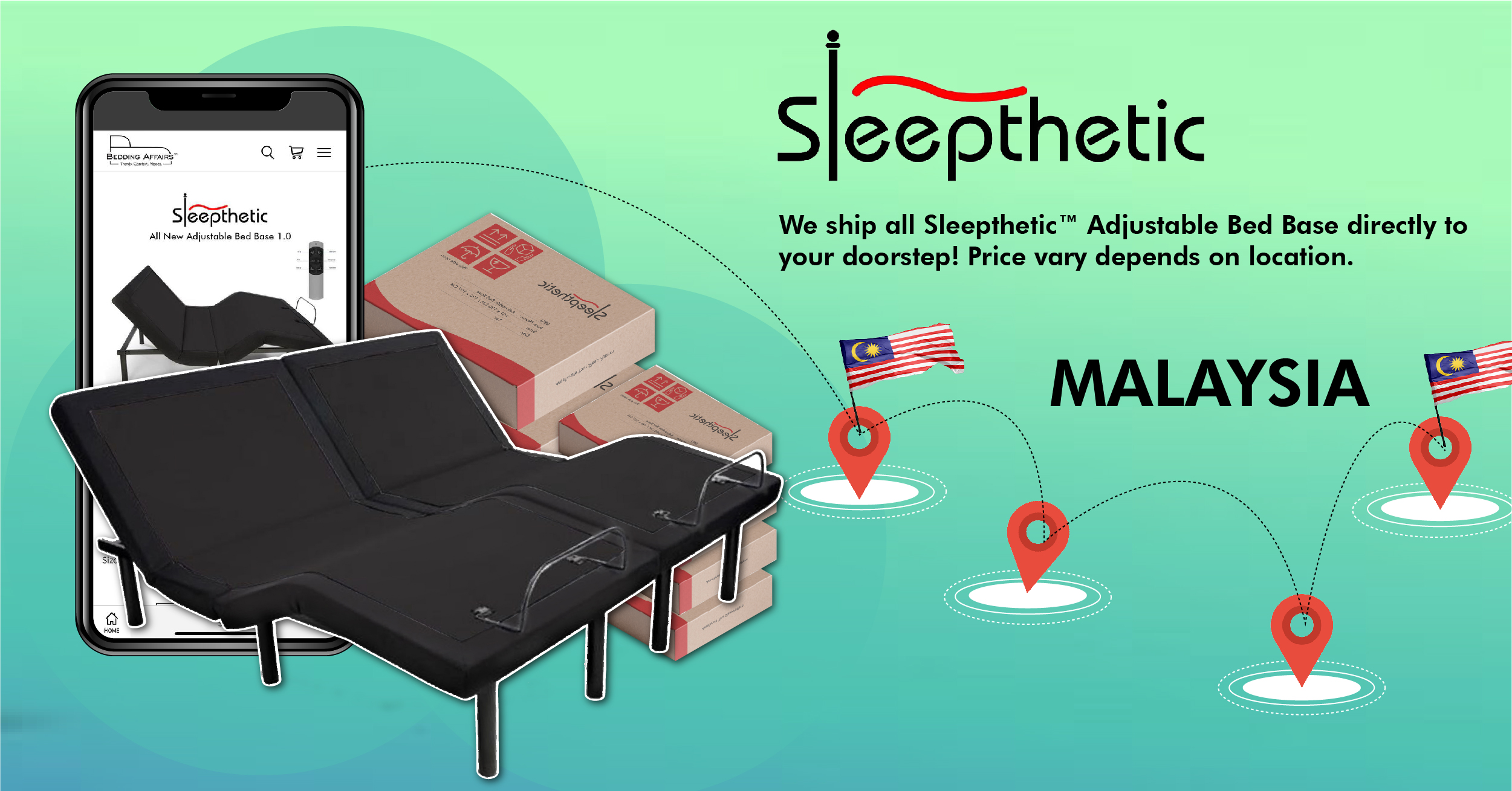 1. What kind of a Adjustable Bed Base should I have?
It is really up to your preference. At Bedding Affairs, we offer Sleepthetic™ Adjustable Bed Base which designed for ameliorate your health issues and ALYA™ Adjustable Bed Base which comes with an innovative Ai Function SMART Alarm, for more information can click the product name.
2. Can I place my mattress directly on the Adjustable Bed Base?
Yes, you can place your mattress on top of our Sleepthetic™ Adjustable Bed Base or ALYA™ Adjustable Bed Base which comes in the King, Queen, Super Single, Single and Split King sizes. We highly recommend our MattX™ Mattress  which works well with our Adjustable Bed Base as it may not work with other brands.
3. Can I use the Adjustable Bed Base with my existing bed frame?
Yes, you can! If your existing bed frame is open and slate-less and it fits with the dimensions of our adjustable bed frame you can use it. Check the dimensions and make sure our adjustable bed frame can fit within your existing bed frame.
4. What are the benefits of an Adjustable Bed Base?
Not everyone sleeps the same. With an adjustable bed base, you can elevate your head and/or feet to find the most comfortable positioning for you.

Not only is it comfortable, there are plenty of health benefits of using an adjustable bed base, too. Elevating your head can help reduce acid reflux and heartburn, for example, and elevating your legs can reduce swelling and varicose veins.

Plus, our Adjustable Bed Base offers preset positions like zero-gravity and TV mode, height adjustable metal legs and silent german motor. All the luxury features you'll love, for thousands less than other leading brands.
5. What sizes are available for the adjustable bed base?
The dimensions for the adjustable base are:
Split King (2x Single): 190cm x 182cm
King: 190cm x 181cm
Queen: 190cm x 150cm
Super Single: 190cm x 107cm
Single: 190cm x 91cm
All sizes of bed base are up to 39cm tall(from floor to top)
6. Is there a weight limit or a lifting capacity of the base?
Unlike most other adjustable bases on the market today, the Sleepthetic™ Adjustable Bed Base can handle an industry-leading 250 kg per base inclusive of mattress.
7. Do i still need a box spring or a foundation?
No, your Sleepthetic™ Adjustable Bed Base replaces your box spring foundation. Your mattress is placed directly on top of the base. If you have a bed with side rails, the base fits inside most bed frames.
8. Do I still need a bed frame?
Nope! Your Sleepthetic™ Adjustable Bed Base has 6 sturdy legs and does not need a frame. The base is free-standing and sits directly on the floor.
9. Why is it beneficial to sleep with legs elevated?
Your heart works hard during the day to pump blood through your body. And when you're lying down flat for 7+ hours each night, it has to work that much harder to circulate your blood properly through your veins. You can give your heart a helping hand by elevating your legs and feet as you sleep, with your knees at a level height to your heart. This helps your blood flow more naturally and evenly, so you get a better night's sleep. 
Warranty
What the limited Adjustable Bed Base Warranty covers?
Our Adjustable Bed Base comes with a 10-year limited warranty and covers the below:

The warranty starts from the date of delivery.
2-Year Hassle Free Warranty
Your adjustable base is warranted by the manufacturer against defects in materials or workmanship for a period of two years from the date of purchase to the original Purchaser. During such time, the manufacturer will repair or replace, at no cost to the original Purchaser, any warranted part(s)* found to be defective by the manufacturer, in its sole discretion. This includes all pre-authorised labor and transportation costs incurred with the repair or replacement of any part found to be defective.
5-Year Warranty on Parts
During year 3 through 5 from the original purchase date, the manufacturer will replace any part on the adjustable base found to be defective by the manufacturer, to the original Purchaser. The manufacturer's liability is limited to the replacement of the defective electrical/mechanical part(s)* ONLY with the Purchaser responsible for all service, installation, and transportation cost of said part(s).
10-Year Limited Warranty
6th to 10th years - customer to pay 80% of any charges to parts, labor, transport.
Notwithstanding the above, the manufacturer extends a 10-year warranty on mechanical base parts found to be defective on a limited basis as defined herein. Specifically, the manufacturer warrants that for a full 10 years from the commencement date of this warranty, any defect in the workmanship or the materials used shall be covered. For purposes of this 10-year warranty, it specifically excludes the cover, shroud, platform, legs, actuator lift motors, massage motors, control box, power supply, and all power supply cords. The purchaser shall pay 80% of the current Manufacturer Suggested Retail Price (MSRP) of the replacement part, or the entire adjustable base if deemed irreparable at the sole discretion of the manufacturer. The manufacturer's liability shall be limited to the replacement of the defective part(s) ONLY with the purchaser responsible for all service, installation and freight costs for said part.
This limited warranty does not cover or apply:

(1) To any damage caused to the adjustable bed base by the purchaser;

(2) If there has been any unauthorized repair or replacement of the adjustable base or parts;

(3) If the adjustable base has been mishandled whether in transit or by other means, subjected to physical or electrical abuse or misuse, or otherwise operated in any way inconsistent with the operation and maintenance procedures outlined in the Owner's Manual, this limited warranty, and any other applicable document published or approved by Bedding Affairs Sdn. Bhd.;

(4) In relation to damage to mattresses, fabric, cables, electrical cords, or items supplied by dealers (also known as retailers or resellers);

(5) If there have been any unnecessary service calls, including costs for in-home setup calls solely for the purpose of educating the purchaser about the adjustable base and/or for finding an unsatisfactory power connection.
Return Policy
What is the return policy for the Sleepthetic™ Adjustable Bed Base?
You can send us an email to askme@beddingaffairs.com with your order number and the reason for your return. We will arrange for a time to pick up the mattress from you and we would either donate or sell it to a local charity or a secondary market.
Adjustable Bed Base
There will be a total charge of 25% of the total price paid (or depending on other states outside KL), as well as shipping charges for 2-way delivery (exp. Klang Valley RM300 x 2 ways) through our logistic partner, which is non-refundable. There could be more charges for delivery if there is only staircase and no lift landing on your unit. We will deduct the cost of the delivery and refund you the balance.
For shipping and delivery, please click here to get more information.
Return delivery fee for Adjustable Bed Base:
Klang Valley RM300
-Klang, Petaling, Gombak, Kuala Lumpur, Hulu Langat, Kuala Langat
Delivery fees vary based on location:
1. Outside Klang Valley (Hulu Selangor, Kuala Selangor) RM350
2. Negeri Sembilan RM650
3. Melaka RM900
4. Perak RM1100
5. Pahang RM1100
6. Pulau Pinang RM1400
7. Johor Bahru RM1450
8. Kelantan RM1600
9. Kedah RM1600
10. Perlis RM1650
11. Terengganu RM1650
Delivery is based on Monday to Saturday, 9am to 6pm