Size Guide
Features

MattX™ DUAL Mattress
MattX™ DUAL is the 1st "Flippable" Mattress in Malaysia. It combines 2 firmness in 1 mattress that features Artic Cool Technology™ zipper cover, which makes it stay cool at all times. Our unique design allows you to flip it to the side that feels best for you!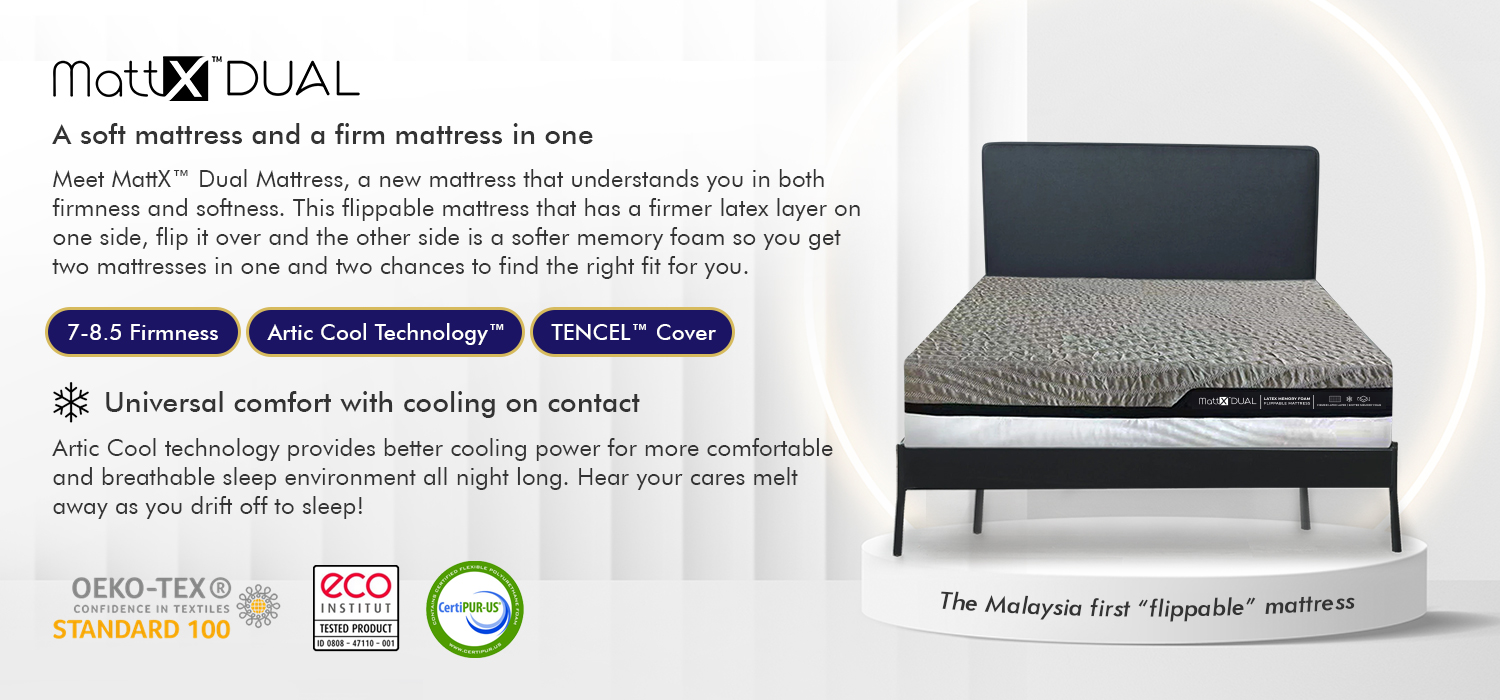 MattX™ Hybrid Mattress
MattX™ Hybrid Mattress not only supports pressure point relief and reducing pain, it could be coated with cooling gels to regulate heat. This is covered with TENCEL™ knitted fibre, is eco-friendly, 100% natural and is known to cool the skin with its efficient moisture wicking properties.
Feel at ease with worry-free sales services
and say good bye to chemical sinking foams

30 Nights Free Trial

10 Years Warranty

Ultra Comforts 

Certified Green 

Motion Isolation 

Unparalleled Support 

Relieves Pressure 

Work perfectly with Adjustable Bed Base 
MattX™ Mattress provides you with an uncompromising sleeping experience
Pressure Point Relief
Looking for a mattress that will help you get a good night's sleep? MattX™ Mattress support pressure point relief and reducing pain.
Sleeping cool all night
Artic Cool Technology™ zipper cover, which makes it stay cool at all times and its efficient moisture wicking properties.
Works perfect with Adjustable Bed Base
Able to adjust your sleeping position and definitely help with existing health issue.
Specification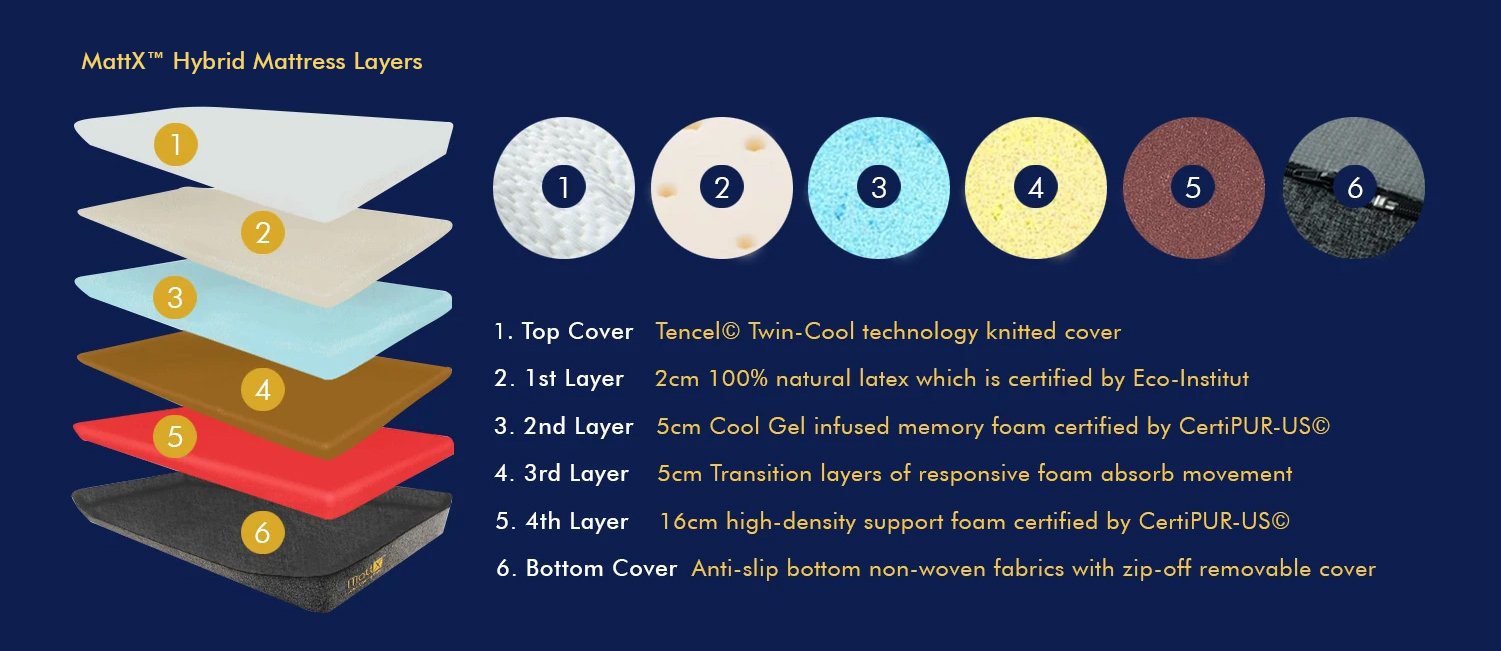 Purity Certifications
"Say goodbye to chemical sinking foams and say hello to plush organic sleep for you and your family."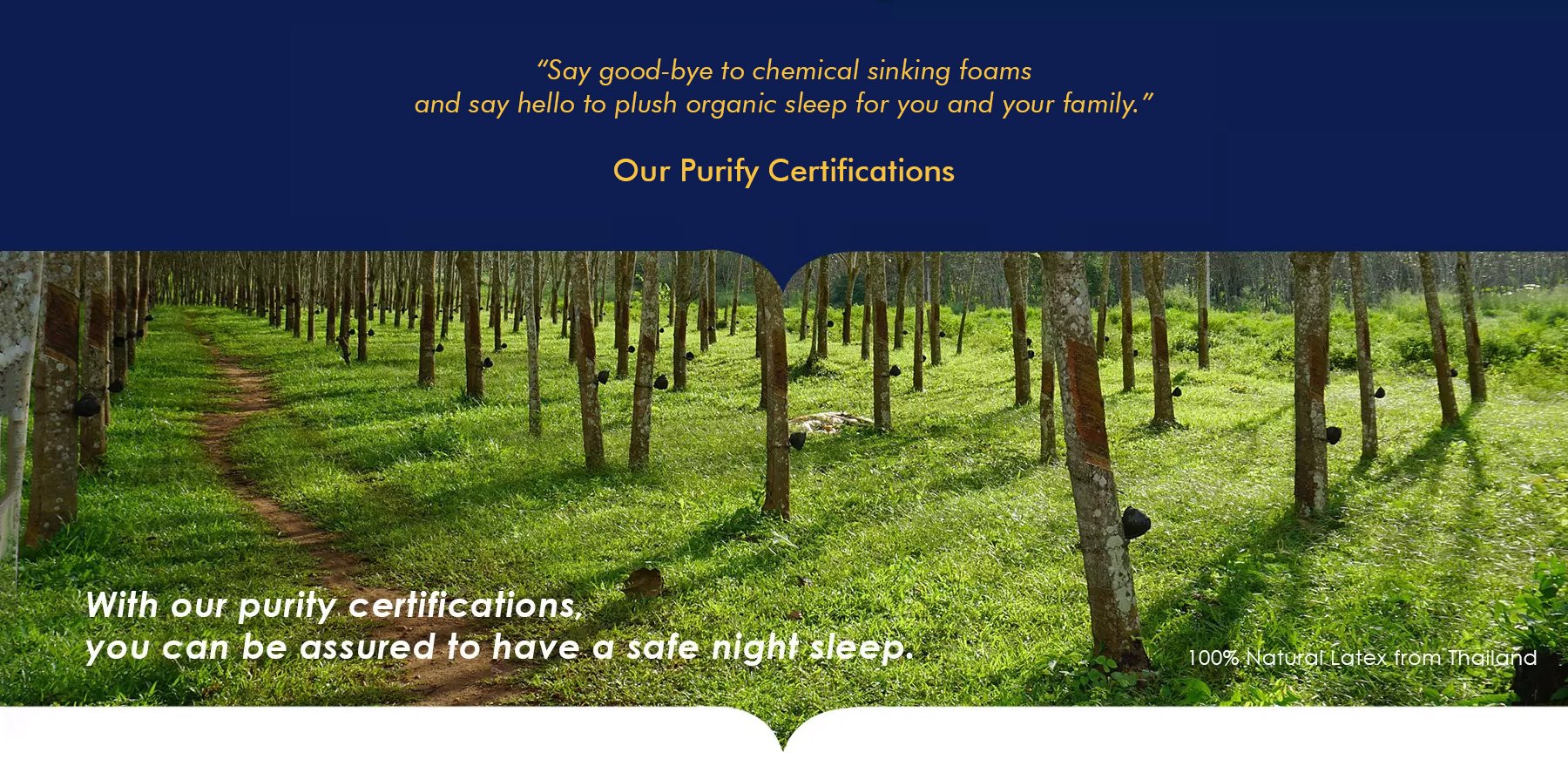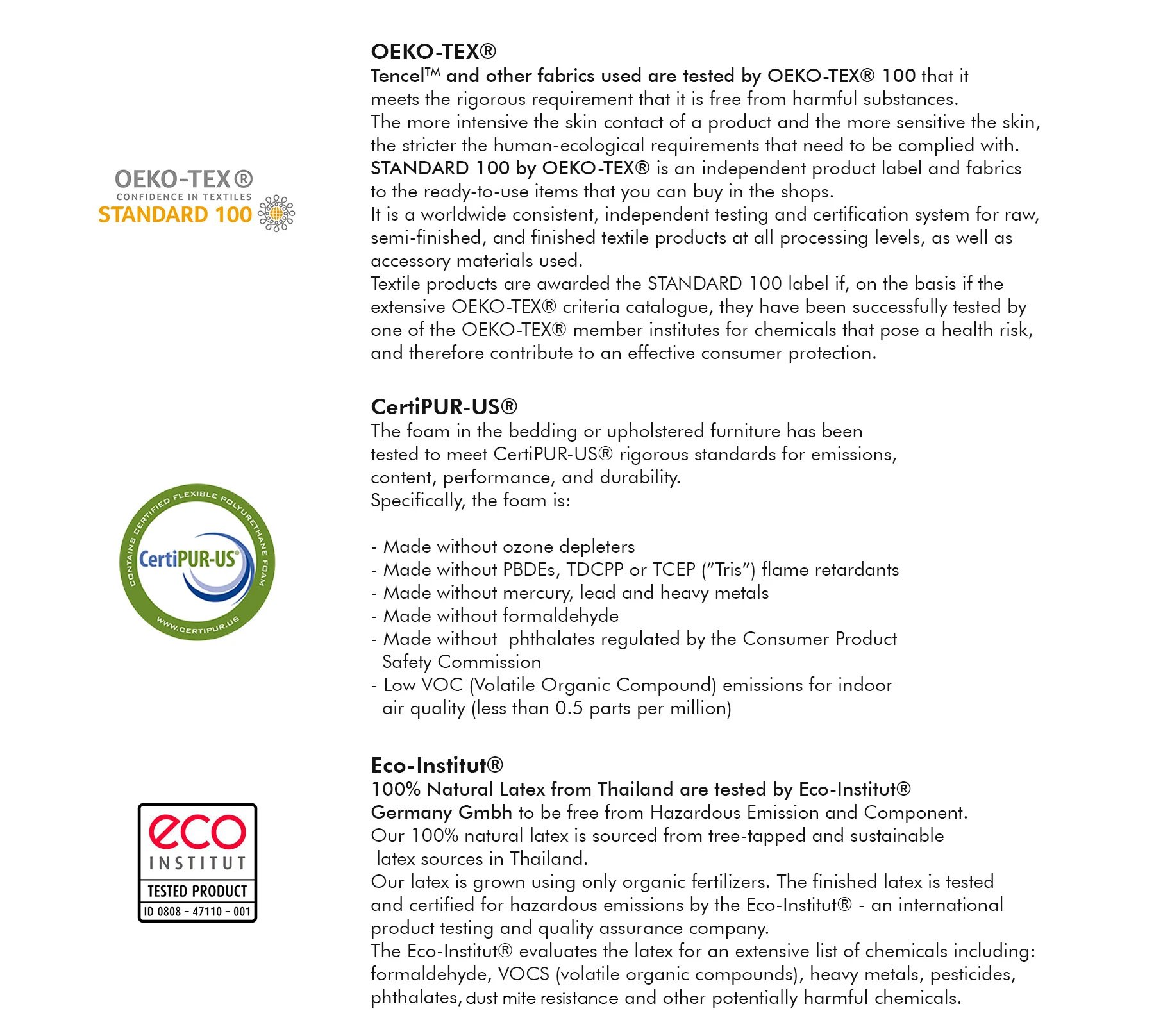 FAQs
1. What is our MattX™ Mattress made of?
Our MattX™ Mattress are made from Latex Memory Foam and Artic Cool Latex.
The MattX™ Hybrid Mattress is made of TENCEL™ Twin-Cool technology knitted top cover. The first layer is 100% natural latex from Thailand and certified by the Eco Institut to be free from harmful substances and chemicals that pose a health risk. The second layer is made of Cool Gel infused memory foam and tested to meet standards of CertiPUR-US© to ensure materials used does not deplete the ozone or contain harmful chemicals. The third and fourth layers consist of responsive foam to absorb and support movement.

The MattX™ DUAL Mattress comes with Artic Cool Technology™ super cooling zipper cover with the layer filled with Cool Gel infused memory foam certified by CertiPUR-US©. The second layer is made of responsive foam to absorb movement followed by a 10cm high-density support core foam-motion transfer control pad and used is certified by Certipur-US. Both MattX™ Mattresses come with anti-slip bottom non-woven fabrics with zip removable cover.
2. Where are your mattresses made?
Our mattresses are designed in Singapore and sourced from various manufacturers in Europe and Asia and are ISO 9001 compliant. The material used are certified 100% to be pure without any hidden or cost-saving materials. The factories we work with offer fair wages and a safe working environment for their employees.
3. Do the MattX™ Mattress sleep hot?
Our MattX™ Mattresses are specially made for a cool night's sleep. Our memory foam is infused with Cool Gel to improve airflow, release trapped heat and help sleepers stay comfortable throughout the night.

The natural characteristic of latex allows air to circulate much better than many other types of mattresses compared to memory foam mattress. TENCEL™, known for its moisture wicking properties helps to make our MattX™ Mattresses cool and comfortable to rest on every night. Our Artic Cool technology provides better cooling power for more comfortable and breathable sleep environment all night long.
4. Does the MattX™ Mattress come with free trial?
We would like our customers to have as much comfort as possible with a good night's sleep and we know it takes some time to get used to a mattress. Thus, we believe in your right to test our MattX™ Mattress with a 30-night free trial.
5. What is the return policy for the MattX™ Mattress?
You can send us an email to askme@beddingaffairs.com with your order number and the reason for your return. We will arrange for a time to pick up the mattress from you and we would either donate or sell it to a local charity or a secondary market.
There will be no fees deducted from your account, and you will receive 100% of your money back. However, you will be charged RM230 for delivery through our logistics partner, which is non-refundable. The 2-way delivery will be charged. We will deduct the cost of the delivery and refund you the balance.
6. Does the MattX™ Mattress come with warranty?
Yes, there is a 10-year limited warrant on our MattX™ Mattress. The warranty is non-transferable and does not cover second hand, black market or hand me down MattX™ Mattress.

The MattX™ Mattress are designed to be placed on a firm, solid surface that is structurally capable of supporting its weight. The warranty does not cover damage of the mattress if it is placed on an unsuitable bed frame surface. The warranty applies to the following defects:

-  Deterioration with a visible indentation that is greater than 1 inch that is not associated with an indentation or sag, caused by improper use or unsupportive foundation or adjustable bed base. Normal wear requires that a mattress be continuously supported by a matching foundation or adjustable bed base with a proper bed frame sufficient to support the collective weight of the mattress and foundation.

-  Any physical flaw in the mattress that causes the foam material to split or crack, despite normal usage and proper handling.

-  Any manufacturing defect in the zipper assembly of the Mattress Cover.
7. How long will It take to receive my MattX™ Mattress?
When you make your order on our website, we are able to ship out within 7 business days. Please email askme@beddingaffairs.com to make a special request.
8. Are MattX™ Mattresses chemical free?
Yes, all of our mattresses are chemical-free and you can be assured to have a safe night sleep. We do not use any harmful chemicals in the production of the mattresses and all materials used are OEKO-TEX Standard 100,  CertiPur-US and eco-institut approved. 
With our purity certifications, which means they are:
- Made without ozone depleters
- Made without PBDEs, TDCPP or TCEP ("Tris") flame retardants
- Made without mercury, lead and other heavy metals
- Made without formaldehyde
- Made without phthalates regulated by the Consumer Product Safety Commission
- Low VOC (Volatile Organic Compound) emissions for indoor air quality (less than 0.5 parts per million)
9. Do MattX™ Mattresses smell?
With any new product there may be a slight scent, which goes away with time. The initial smell is similar to a new pack of tennis balls or a new car, and is normal and harmless.
For shipping and delivery, please click here to get more information.