How to Choose the Best Mattress in Malaysia
In an earlier post, we shared what to look out for when you are out shopping for a new mattress. Things to consider such as trial nights, warranty and if you should be buying a big item like a mattress online. We will now share in-depth on how to choose the best mattress when shopping in Malaysia.
What Type Of Mattress To Choose?
1. Spring Mattresses
The most traditional mattresses are open spring mattresses. It contains continuous open coils in the mattress made into numerous springs. If you like a bouncy bed, a spring mattress is your answer. However, they are less supportive for the back than most other mattresses and perhaps better suited for the extra bedroom for guests where they are only used occasionally.
Besides open spring mattresses, there is also the pocket spring mattress. Pocket spring mattress houses small springs within their own pocket of fabric. This provides more support than the open spring mattress and you can choose from soft, medium or firm depending on your preference. It is more breathable than latex or memory foam mattresses. The downside is that the pocket spring mattress weighs a lot more and is heavy to lift and turn.
2. Latex Mattress
Latex mattresses are popular in Malaysia. You can choose between 100% natural latex mattress, which is non-toxic and environmentally friendly to dispose of or the synthetic version which involves chemical production. There is also a mixed latex mattress with both synthetic and natural latex as filling. Latex mattress is known for its durability and it is also breathable. The 100% natural latex mattress is good for allergic sufferers. But it is firm and can also be heavy to lift and turn. Latex is great for sleepers who also like to have some bounce in their bed and want to stay away from the indentation that comes with memory foam mattresses.
3. Memory Foam Mattress
Memory foam mattress has the ability to embrace your body's contours. As it moulds to the shape of your body, it also absorbs the weight where it is heaviest and helps to relieve the pressure on your joints. But memory foam has a bad reputation for sleeping hot. More advanced memory foams are coated with cool gel to mitigate the heat problem creating a cooler mattress compared to traditional ones. If you want a body shaping hug on your mattress for pressure relief, memory foam mattress could be for you.
4. Pillow-Top Mattresses
Pillow-top mattresses fall into the hybrid category where spring, latex and memory are mixed together. They usually have a soft material stuffed or sewn into the cover. For example, Bedding Affairs' MattX™ Mattress. The Hybrid Mattress' top cover are knitted with TENCEL™, a superior all-natural material from Lenzing in Austria, famous for its cooling and smooth properties. The Dual Mattress is the Flipabble mattress in Malaysia, features Artic Cool Technology™ provides better cooling power. They are designed for a balanced sleep experience combining all of these materials for comfort and support.
Mattress Firmness
The next thing you would want to consider is the firmness of the mattress. How firm you would like your mattress really depends on your health condition and what type of sleeping position you usually sleep in.
 

Firm

Medium Firm
Medium Soft
Soft
A firm mattress could be ideal for those suffering from lower back pain. It allows you to sleep comfortably on your front while keeping your back in a relatively comfortable and stable position without sinking into it as you sleep.
Medium firm mattresses are great for those who sleep on their back as this provides lower back support.
For sleepers who often change their sleep position during the night would like to select a medium soft mattress. This will provide support for your body while adjusting to your body shape.

Those who sleep on the side and change positions during the night are best suited to selecting soft mattresses. That is because side sleepers are already relieving pressure from the spine and so you would want a soft mattress to mould to your body's natural position.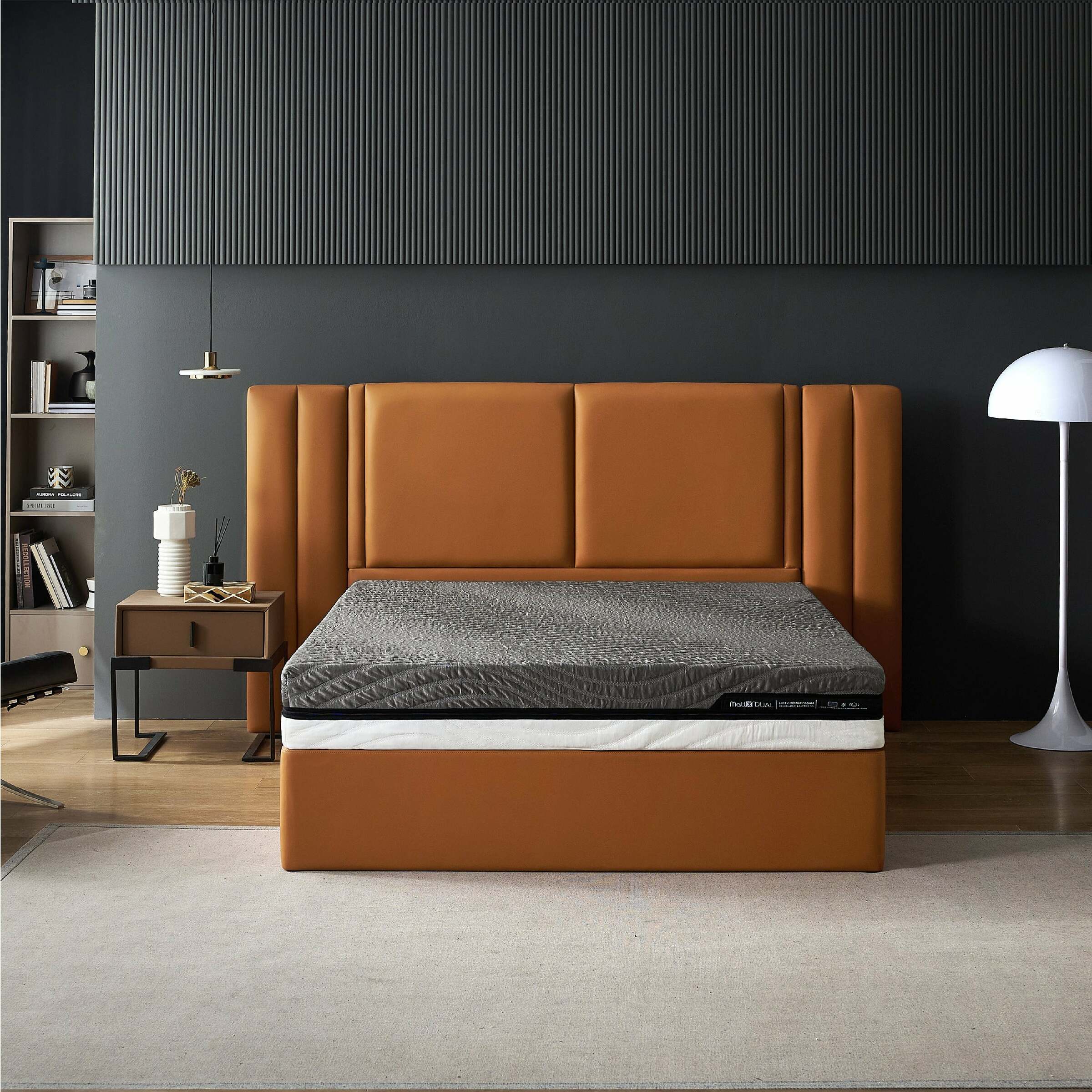 If you prefer something harder, our MattX™ Dual Mattress and  MattX™ Hybrid Mattress are your best bet. They are Flippable Mattress in Malaysia, each side is a different firmness, 7 ~ 8.5 out of 10. Two firmness choices in one mattress simply flip over and shift the removable  Artic Cool Technology™ and TENCEL™ cover on the side where firmness suits your best.
What to Do after Your New Mattress Arrives?
Most of us would like to jump onto our new mattress or to dress it when it arrives. But it is best to air your new mattress for at least four hours to remove and smell from the warehouse and to make sure it is not damp or cold. Ideally though, you should consider airing your mattress weekly by removing your bedsheet. It is also a recommended practice to turn your mattress over every six months to stop indentation forming due to your weight on the mattress.
We hope the information provided can help you choose the best mattress in Malaysia. Shop at Bedding Affairs Malaysia for all your bedding needs.